Dream Big Villa - Customs Forms Required During Transit
Customs
While you're on the plane you'll be handed two forms.
Please indicate that you are staying for "pleasure" and at a "Dream Big Villa." You may list your own phone number on the immigration paperwork. 
Be sure to fill have this ready when you land, as filling it out at the airport can slow down the process.
Disembarkation Card

Last Name / Surname
First / Given Name
City
State
Postal / Zip Code
Country
Country of Citizenship
Passport Number
Passport Expiration Date (Day/Month/Year)
Date of Birth (Day/Month/Year)
Place of Birth
Flight #
Length of reservation in number of nights
Signature

Please select Vacation/Pleasure, if you select anything related to employment or business you may be deported

How you learned of Turks & Caicos
Booking Method
Intended Address: Select "Private Home"
Name/Address:
Dream Big Villa
448 Chalk Sound Drive
Sapodilla Bay, Providenciales, TCI Turks And Caicos Islands
Customs Form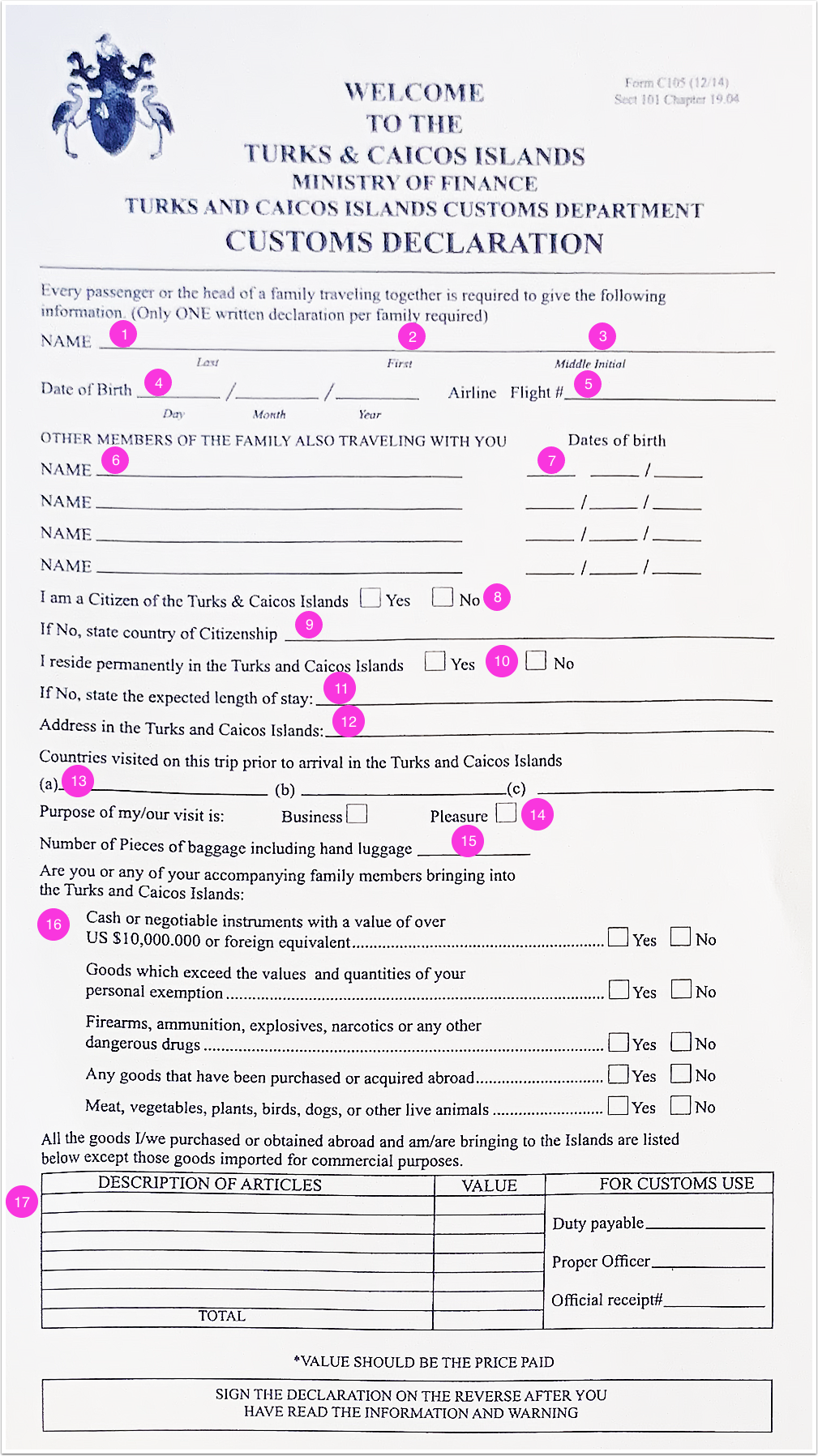 Last Name
First Name
Middle Initial
Date of Birth (Day, Month, Year)
Airline Flight #
Names of your companions
Dates of Birth of your companions
Are you a citizen of Turks & Caicos
Country of Citizenship
Length of your reservation in number of days
Do you reside permanently in Turks and Caicos?
Address you're staying:
Dream Big Villa
448 Chalk Sound Drive
Sapodilla Bay, Providenciales, TCI Turks And Caicos Islands
If you've visited other countries on this trip please list them

Select "Pleasure" do NOT select "Business"

Enter the number of pieces of luggage including carry-on items
-If you've brought more than $10,000 cash this must be declared
-Select "No" for "goods which exceeds the values and quantities of your personal exemption", this question is intended for island residents
-Select "No" for "Firearms, ammunition, explosives, narcotics or any other dangerous drugs"
-Select "No" for "Any goods that have been purchased or acquired abroad", this question is intended for island residents
-Select "No" for "Meat, vegetables, plants, birds, dogs, or other live animals"
If you brought more than $10,000.00 cash to the island list the amount here
---
---