Creating a check list for a new property
Follow this guide to set up a check list for a new property.
Step 1: Go to the Sample property and duplicate the "Turnover- template" check list into the new property
Click the 3 dots at the top right of the "Turnover- template" check list
Click "Duplicate into other Properties"
Select the new property and click done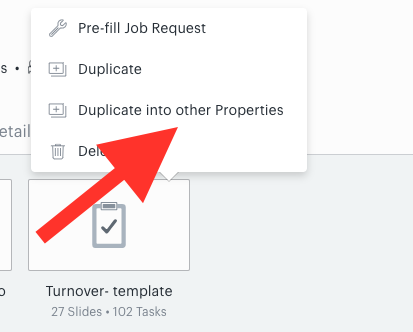 Step 2: Open a new tab and search the property address in Guesty

Step 3: Click on the listing in Guesty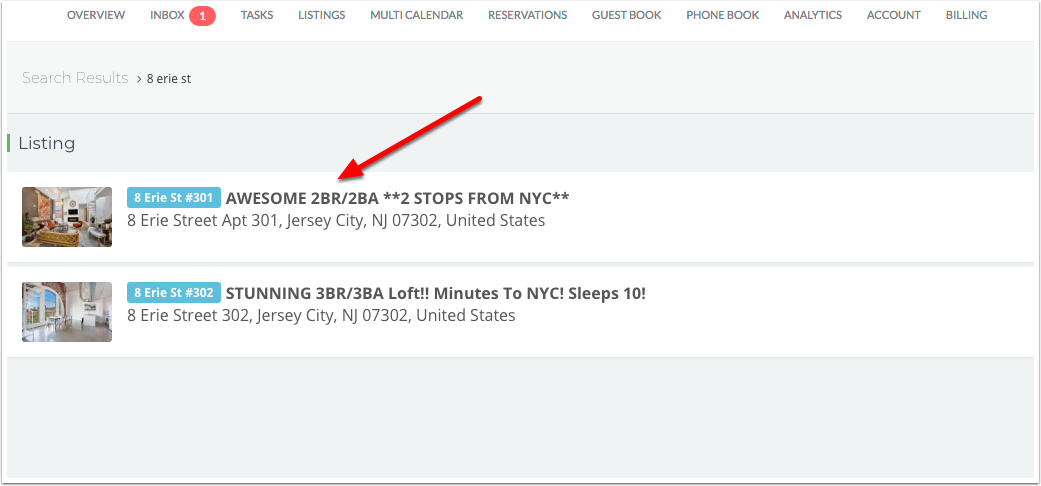 Step 4: Click Marketing

Step 5: Look through the photos to understand the property set up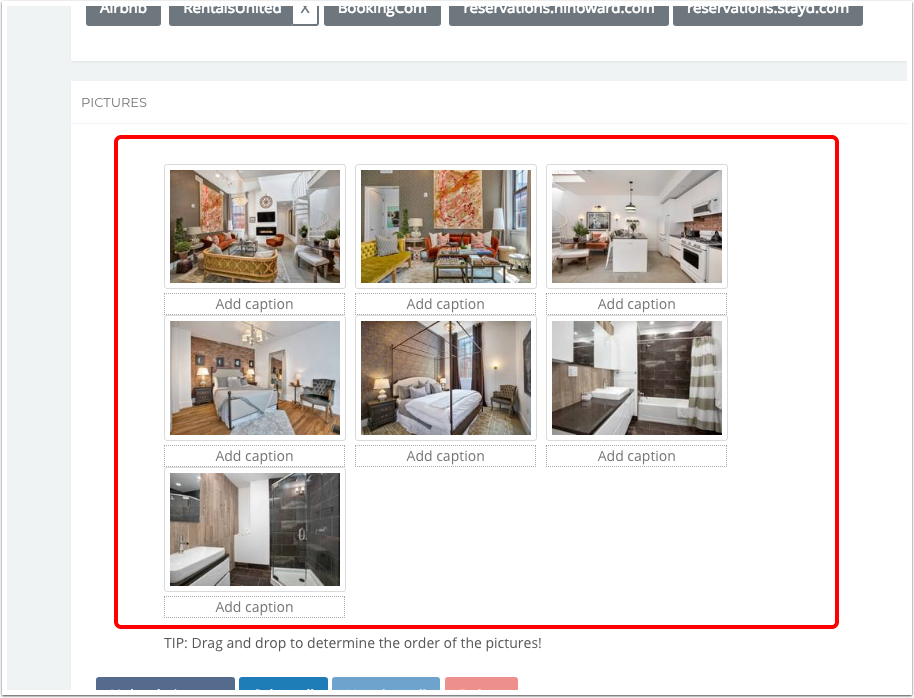 Step 6: Note how many of each type of bathroom there are in the apartment
Bathrooms with bath tubs
Bathrooms with shower
Half bathrooms (toilet and sink only)
If you can't find this info in the Guesty photos, you can also look at the Properly photos folder in the Team Drive.
Step 7: Click check lists in the new property and then click the "Turnover-template" check list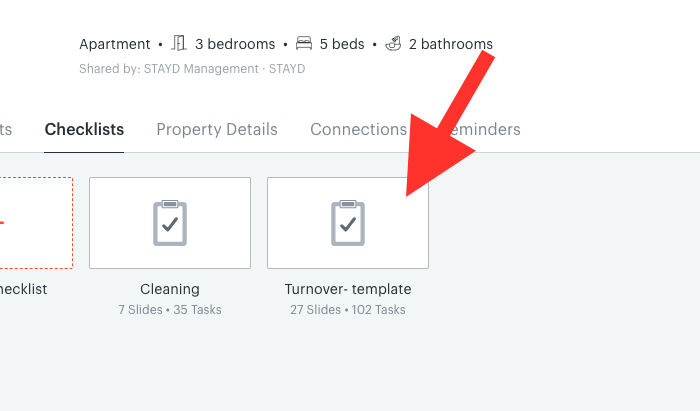 Step 8: Duplicate slides based on the number of rooms
Click the + button to duplicate a slide. Make sure to put the slides in the same order as they are in the template.
E.g. #1 For a 2 bedroom apartment, if there is a bedroom check list slide plus two bedroom verification photos, you should duplicate these slides and put them in this order: bedroom 1 checklist, bedroom 1 verification photo #1, bedroom #1 verification photo number 2, bedroom 2 checklist, bedroom 2 verification photo #1, bedroom #2 verification photo number 2
E.g. #2 If you have a 2 bedroom/2 bathroom apartment, you should duplicate the bathroom and bedroom slides so there are two copies of each. Make sure to duplicate both the check list slides and the photo slides.
There are different slides for master bedroom closets vs regular bedroom closets and bathrooms with showers vs bathrooms with bath tubs.

Step 9: Go through the image slides and click replace on each photo
Replace the slide photo with a photo from the new apartment.
For some slides, we use standard photos and we should not replace these photos. Read the bottom of this article to see which slides should use standard photos.
You can upload all the new photos at once to save time.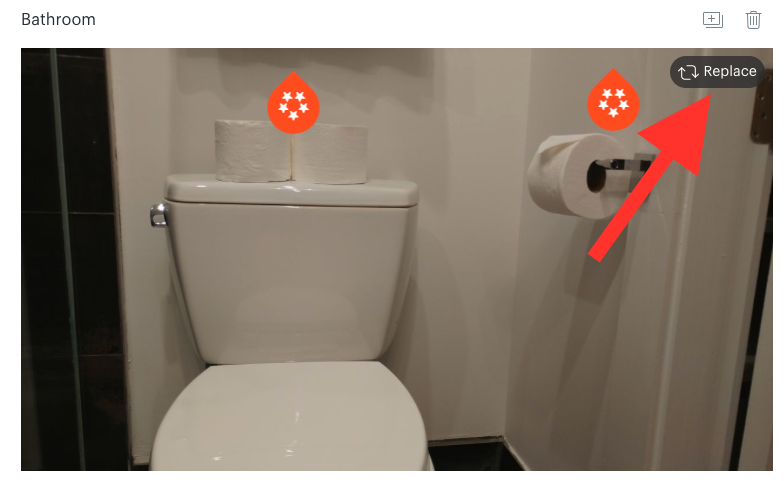 Step 10: Move the pins in each photo so that they are above the respective items in the check lists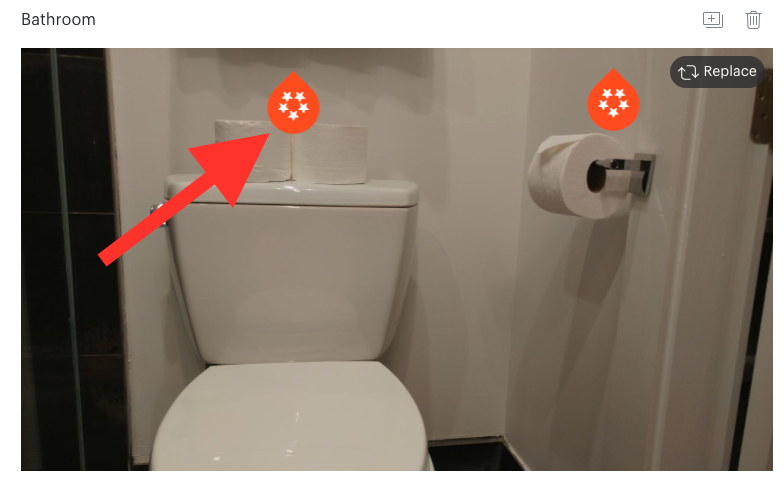 Step 11: Repeat steps 9 and 10 until you have replaced all the photos with photos of the new apartment
Step 12: Change the name of the check list to "Turnover" and save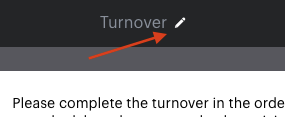 Step 13: Make any changes to the check lists that are specific to the apartment
E.g. If the apartment has a special coffee station, you will need to edit the check list to show the cleaners how to set it up for the next guest.
Step 14: Delete any slides if that room or item is not present in the apartment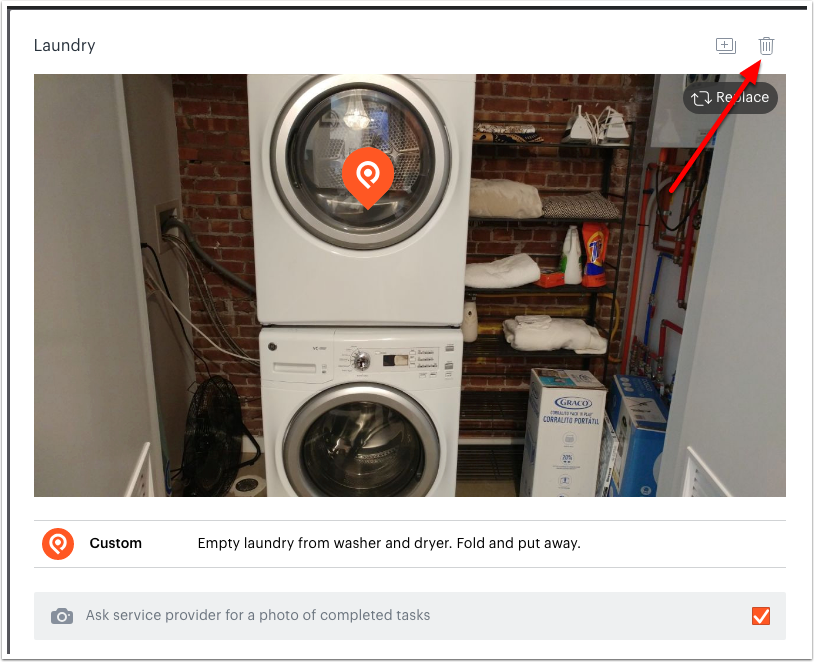 E.g. If there is no washer/dryer in the apartment, you should delete this slide
---
---