Backup Check-In Instructions - The Slate #411
This is a Guide of the Entire Process:
Step 1: Go to the Stairs at the End of the Hall
Go through the stairwell door and look for a lockbox on the wall of the stairwell.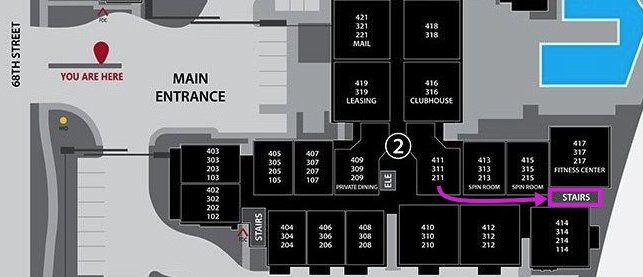 Step 2: Use Backup Apartment Door Code to Open Lockbox
Follow these steps to open the lockbox:
Open the cover.
Enter the code left to right by rotating the numbers.
Press down on the latch and pull to open the lockbox.
Step 3: Close the Lockbox! Set the Numbers to 0000.
This step is very important, it will prevent other guests from having access to our lockbox.
We don't want other guests tampering with an open/unlocked lockbox.
Your security is very important to us.
Step 4: Use the Key to Open the Door
Welcome back!
Step 5: Keep the Key Safe!
This key is expensive.
It is difficult to find the time and people to duplicate a lost key.
Please take good care of it while you are in the apartment.
Return the key to the lockbox when you leave the apartment.
We know it will take some extra time out of your day but we really appreciate your help!
Step 6: Have a Wonderful Stay!
---
---