Connect PriceLabs to Guesty listing
Once we have created a listing in Guesty, we need to connect it to PriceLabs. Price labs helps us to automate the pricing for the listing. PriceLabs will help us set the best price so that we can maximize our revenue.
Step 1: Go to PriceLabs and click on "Connect to your Airbnb/PMS account".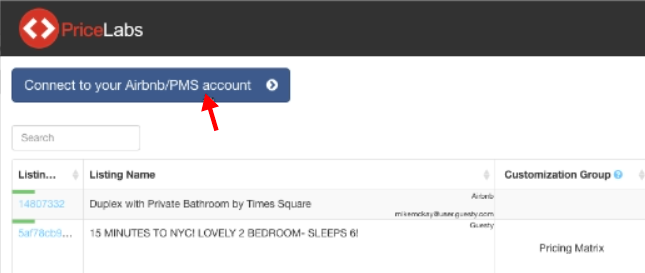 Step 2: Enter details in pop-up window.
Select "Guesty" from dropdown
Guesty API Token - Follow these steps to get Guesty API Token

Go to Guesty, click on "Account" and then click on "Integrations"

Click on "PriceLabs"

Click on "Copy to clipboard". Paste the API Token in "Guesty API Token" text box.

Click on Login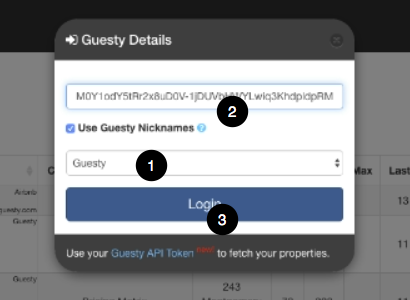 Step 3: Click "Dynamic Pricing" and then click on "Manage Listings".

Step 4: Enter settings for new listings.
Select "Pricing Matrix" from dropdown
Nickname - Follow these steps to get nickname from Guesty

Go to Guesty and search for property. E.g. "Awesome 2 BR/2BA with Pool & Gym by Howard"
Go to listing details page
Copy the nickname for listing. Nickname is the text present in blue box. Paste the nickname in the text box present in fifth column.

---
---