Creating a Loom video that will be made into a Helpdoc
To save time documenting our processes, follow the steps below for creating a Loom video. These videos record your screen and audio. Once you create the video, a virtual assistant will create a Helpdoc from the video.
Step 1: Download the Loom Chrome extension
You can download it at this link.
Step 2: Login to Loom using the password in Keeper
Step 3: Begin recording
Click the Loom icon in the top right of Google Chrome
Make sure audio is working on the mic
Click Start Recording

Step 4: Complete the steps for the task on your screen
Loom will record your screen and audio. Make sure to walk through everything slowly with examples. It's important to talk about each step you are taking in the video. The VA will be using this video to create the documentation.
In the beginning of the video, speak a few sentences that will be used for the article description. It's good to point out the purpose of the article here and when the steps should be followed.
Step 4: Click the Loom icon in the top right of Chrome to stop recording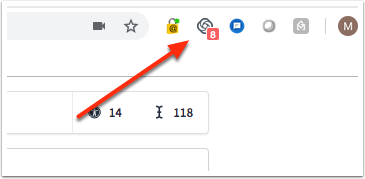 Step 5: Add a comment to the video, including the following items
Helpdoc category where the article should be posted. E.g. Software guides -> Helpdocs
Any notes that the VA will need to know to create the guide
A link to where the task is done, so the VA can take screenshots
Who created the video. E.g. Video by Mike McKay. The VA will use this in later steps to get feedback from you on the article before it goes live.

Step 6: Move the Loom video to the Helpdocs- to do folder
Click Move to folder
Click Helpdocs- to do and then click Move




Step 7: Add any passwords to the Virtual Assistant folder in Keeper
If the VA will need any passwords to view the pages to create these guides, please add them to this folder. Anything in this folder is automatically shared with the VA.
Keep security in mind here. It's best to create the VA a new account or to delete the password from this folder once the guide is created.
Step 8: Review the article
Once the VA creates the article, they will assign you an Asana task to review it. You can do any of the following at this point:
Change the article Status and Visibility to Published if the article is complete. Mark it complete in Asana and move the task to the Complete column.
Make changes to the article directly in Helpdocs
Comment on the Asana task for the VA to make changes. If you do this, assign the Asana task back to them with a new due date and move the task to the Revision needed column.
---
---